Currently, there are three payment platforms that are the most popular for Opencart: PayPal, Stripe, and Square. Each one has its own advantages and disadvantages, so it is important to choose the right one for your business. In this article, we bring you the necessary information that will help you decide which gateways to include in your ecommerce.
Global e-commerce sales reported revenues of approximately $4.9 trillion in 2021. This not only represented an increase of over $650 billion compared to the revenue recorded just one year earlier, but it was also the highest business figure of the last decade. An increase that is expected to continue in the coming years, surpassing $7 trillion in 2025.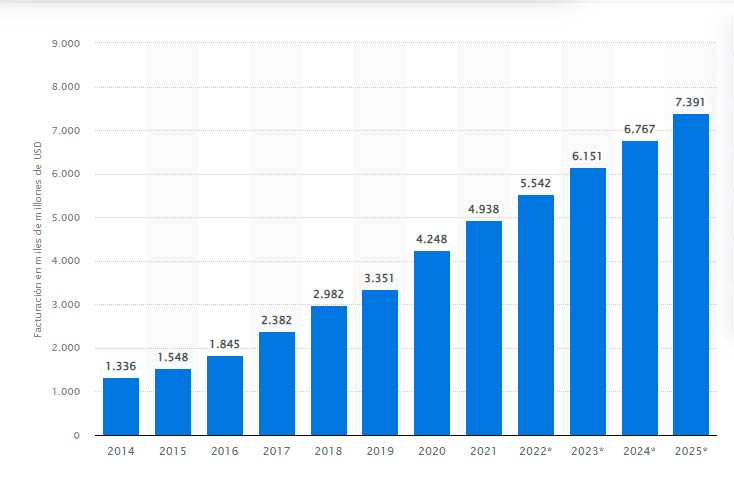 The above demonstrates the importance of having well-configured payment methods on your site. Therefore, choosing the right one can pave the way to success.
But, what are the 3 most popular payment platforms for Opencart?
PayPal: The Most Popular Gateway
PayPal is an online payment service that was founded in 1998 by Peter Thiel, Max Levchin, and Luke Nosek. It is now one of the most widely used payment platforms for various purposes. Since then, PayPal has become one of the most important companies and has been widely used as a digital wallet for various purposes such as mobile payments, online purchases, and money transfers.
Undoubtedly, it is one of the most popular platforms in the world. Known for sending money quickly and easily, it has positioned itself as a stable payment gateway that has a presence in almost any ecommerce, and Opencart is no exception.
It offers various options within its platform, and as a payment gateway, some of the most notable features are:
-The option to defer payments to months -Allows payments with debit and credit cards -It has a plugin that integrates with Opencart perfectly, Paypal FEE extension -You can set up automated payments.
Main characteristics of PayPal as a payment method
Compared to other standard payment methods, PayPal has several distinctive attributes that distinguish it in the market.
Buyer protection
It offers additional protection to the buyer that other payment methods or platforms do not offer. Undoubtedly, this is why millions of users choose PayPal to carry out the economic transactions of their online purchases. This protection guarantees the refund of the purchase amount. In cases where the received merchandise is defective or does not match the description given by the seller in the online store.
Security
It uses advanced encryption systems that guarantee the total confidentiality of the data sent. In addition, by acting as an intermediary, it protects the user's data. The recipient of the money transfer does not have access to the data in any case. No data is stored in the e-commerce.
Speed
One of the main characteristics of the payment platform is that both when receiving and sending money, it is charged or paid immediately. It is only necessary for the recipient to have an email address, mobile phone number, or PayPal account to receive the money. It can be used for more than just payments; it can also be used to buy items from various websites that have partnered with PayPal. It is possible to use it as a shopping platform without providing credit card information.
Types of Accounts
There are three types of PayPal account offerings: personal, business, and organizational accounts. Your selection depends on your desired operations with the payment platform. Different account owners will have different needs and can choose from these three account options that best suit their needs.
If you have an online store, PayPal should be part of your payment methods.
Stripe: The Startup Favorite
Stripe is a payment gateway that offers its advantages for both small businesses and more established companies. It is noteworthy for its low fees on transfers made through this payment platform. Stripe has earned a high reputation in the market, which is why the number of associated users is increasing more and more. Opencart e-commerce is not left out of this, as in the Opencart marketplace you can find solutions for integrating Stripe into your store.
5 Advantages of using Stripe in OpenCart
Free registration method
Stripe does not charge upfront fees and only pays 2.9% of each transaction (less than PayPal, Google Wallet, or ApplePay). These fees are much more affordable than those of its competitors and do not have monthly "fixed" fees linked to banks.
Integrated on the website
Unlike other payment platforms, your customers will never have to leave your site to make a payment. Payment is made within the same website and without any negative impact on abandoned carts.
Versatility
It accepts any type of bank card and also has an autocomplete for the payment form that allows you to securely store your customers' data.
Security
Yes, you can use it without fear that your data, privacy, and security will be compromised. It is a very secure and encrypted system that offers great peace of mind to your customers.
Low commissions
This platform has much lower commissions than its competitors, applying a transaction fee of 1.4% plus €0.25 for European cards and €2.9 plus €0.25 for non-European cards.
Swish för handle
We couldn't leave out one of our favorites, and that is Swish, which has become the preferred solution for many. With over 8 million users, it is undoubtedly an option to consider. It is secure, simple, and has a very clean interface.
At Devmanextension, we have become technical partners and have developed the perfect extension for your Opencart store, which is compatible with the app. This platform has the refund service included. We also offer a complete installation service.
Get in touch with us and you will have an excellent extension and technical support with us.
Conclusion: Start using PayPal or Swish with your business today!
PayPal is a payment system that can be used for online and offline transactions. It is one of the most widely used online payment systems today.
Swish is a company that offers hardware and software solutions for businesses. It has been in business since 1996 and has been providing solutions to companies worldwide.